THE CONFEDERATED TRIBES
OF THE GRAND RONDE COMMUNITY
OF OREGON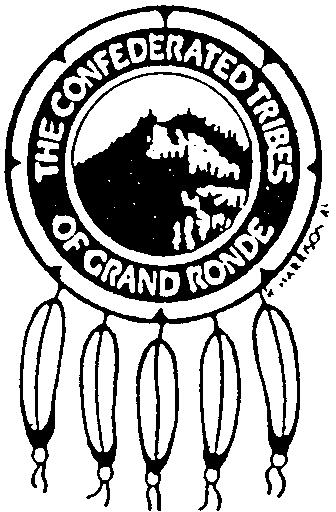 Resolution No. 007-94

TRIBAL COUNCIL




WHEREAS, the Grand Ronde Tribal Council, pursuant to Article III, Section I of the Tribal Constitution approved November 30, 1984 by the Acting Deputy Assistant Secretary of the Interior, Indian Affairs, is empowered to exercise all legislative and executive authority not specifically vested in the General Council of the Confederated Tribes of the Grand Ronde Community of Oregon; and,

WHEREAS, the Council feels it is in the best interests of the Tribe to adopt an Intergovernmental Agreements Ordinance, and that by adopting this Ordinance the Council feels numerous benefits will be increased; and

WHEREAS, the Tribal Laws and Ordinances Working Group has reviewed the proposed Ordinance and recommends adopting this Ordinance.

NOW THEREFORE BE IT RESOLVED, that the Council hereby adopts the Intergovernmental Agreements Ordinance which will allow the Tribal Chair and Executive Officer to negotiate intergovernmental agreements with state and local governments; and

BE IT FURTHER RESOLVED, that the Council hereby declares an emergency and adopts this Ordinance on this date.

CERTIFICATION: The Tribal Council for the Confederated Tribes of the Grand Ronde Community of Oregon adopted this resolution at a regularly scheduled meeting, with a quorum present as required by the Grand Ronde Constitution held on January 12, 1994, by a vote of 8 yes, 0 no, and 0 abstentions.




___________________________

Mark Mercier, Tribal Chairman





___________________________

Candy Robertson, Secretary





UMPQUA
MOLALLA
ROGUE RIVER
KALAPUYA
CHASTA
________________________
9615 GRAND RONDE RD
GRAND RONDE, OREGON 97347





---


Date Originally Adopted: 1-12-94
Date Amended:
Subject: Intergovernmental Agreements
Resolution No.: 007—94




THE CONFEDERATED TRIBES OF THE
GRAND RONDE COMMUNITY OF OREGON

Intergovernmental Agreements Ordinance

Tribal Code § 211




(a) Purpose and Authority
(b) Authority of Council Chair and Executive Officer
(c) Procedures
(d) Specific purpose, power and duties of Mid-Willamette Valley Council of Governments
(e) Ratification
(f) Effective Date



---
Confederated Tribes of the Grand Ronde Community of Oregon
Intergovernmental Agreements Ordinance

(a) Purpose and Authority: The purpose of this Ordinance is to establish procedures for the Tribal Council to enter into intergovernmental agreements (Agreement) with State and local governmental entities such as the State General Services Administration and to create, along with other parties to the attached Agreement, an intergovernmental entity known as the Mid-Willamette Valley Council of Governments. The authority for this Ordinance is found in the Grand Ronde Constitution, Article III.
(b) Authority of Council Chair and Executive Officer: The Tribal Council, Council Chair and Executive Officer, within their respective areas of authority, may initiate negotiations with State and local governments for the benefit of the Tribe.
(c) Procedures: In order for the Council to enter into an Agreement with the State of Oregon or local governmental entities, the following procedures shall be followed:

(1) The entity, the Tribal Council Chair or the Executive Officer shall provide a full copy of the proposed Agreement for Tribal Council review not less than 30 days prior to the requested date of enforcement.
(2) When the proposed Agreement is received, the Council shall forward the proposed agreement to the Tribal Attorney for review, and the Tribal Attorney shall review the proposed Agreement within 15 days of receipt.
(3) After review by the Tribal Attorney, the proposed Agreement shall be reviewed by the Tribal Council and discussed in at least one Council meeting prior to approval at a regular Tribal Council meeting.
(4) When approved by the Tribal Council, the Agreement shall be signed by the Tribal Chairperson and returned to the contracting entity. The proposing entity shall then sign the agreement and return one original copy to the Tribal Attorney.
(5) The Tribal Attorney shall provide a copy of the Agreement to the Tribal Council and retain the original copy in the Tribal Attorney's office.
(d) Specific purpose, power and duties of Mid-Willamette Valley Council of Governments: The effective date, specification of public purposes for which the MWVCOG is created, and the powers, duties and functions of the MWVCOG are as stated in the Agreement attached hereto and, by this reference, incorporated herein.
(e) Ratification: The above mentioned Agreement with MWVCOG is hereby ratified and the Tribal Chair and Tribal Council Secretary are hereby authorized and directed to sign the same on behalf of the Tribe.
(f) Effective Date: Because of the immediate benefits of the Tribe's membership in the MWVCOG, this Ordinance shall be considered to be in effect immediately upon approval by the Tribal Council.



I certify this to be a true copy of the Confederated Tribes of the Grand Ronde Community of Oregon Intergovernmental Agreements Ordinance.
_____________________________
Tribal Council Secretary